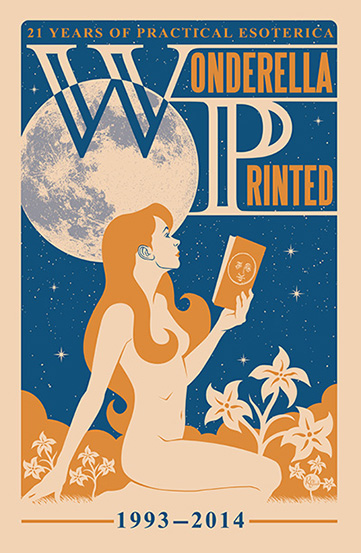 * 21 YEARS OF PRACTICAL ESOTERICA *
Wonderella Printed began publishing in July 1993 with the first issue of Real Life Magazine, a classic-style zine dedicated to the independent art and music scene in publisher Clint Marsh's hometown of Ottumwa, Iowa. Since then, Wonderella's offerings have grown progressively stranger and more attuned to Mr. Marsh's unique view of the world, a genre of publishing he calls "practical esoterica."
In honor of 21 years of producing books, pamphlets, and ephemera, Wonderella Printed is proud to present a specially commissioned poster by Bay Area graphic artist R. Black.
The Lady & The Moon
Wonderella first used its "Lady and Moon" logo in 2002. The first iteration of the image was copied from a 1606 alchemical textbook, Alchymia, by Andreas Libavius. In the image's freestanding context as our logo, the white lilies and the female figure signify Clint's astrological sign of The Virgin, and the moon represents illumination in the darkness, a goal of his work with Wonderella Printed. In 2009, artist Jeff Hoke updated the logo, and R. Black has given it a new spin for this poster.

About R. Black
The striking, unmistakable visual style of graphic artist R. Black has graced hundreds of concert posters, book and magazine covers, and the outer walls of Berkeley's Ashby Stage. In 2008, Dark Horse Comics published Futura: L'Art de R. Black, a collection of his rock poster art. Black divides his time between the San Francisco Bay Area and the Eastern Sierras.
ORDER YOUR POSTER
Add a poster to your online shopping cart by clicking the "Add to Cart" button at the bottom of this page.

Wonderella Turns 21 is an offset 3-color poster measuring 11 x 17 inches. It has been printed in a limited edition of 500 copies.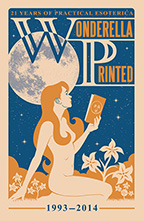 Wonderella Printed Turns 21
A poster by R. Black
** This item is no longer available from Wonderella Printed. **