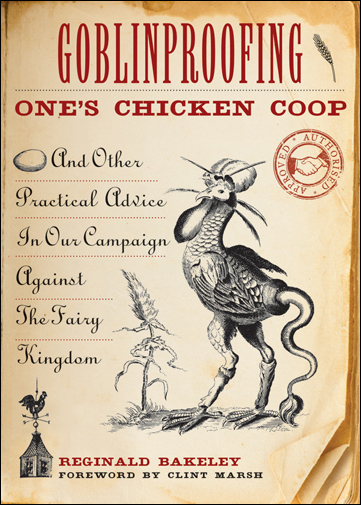 * 208 PAGES *
* 40 USEFUL ILLUSTRATIONS *
Chickens? YES! Goblins? NO!
In the tradition of Lemony Snicket and Roald Dahl, Goblinproofing One's Chicken Coop shows how to banish those pesky dark fairy creatures ready to thwart your every last pleasure, be it gardening, country hikes, or even getting a good night's sleep.

In this charming guide, "fairy hunter" Reginald Bakeley offers practical instructions to clear your home and garden of these unsettling inhabitants and banish them from your chicken coop and kitchen cupboard forever.

In Goblinproofing One's Chicken Coop readers will discover why...
...a bustle in one's hedgerow may be cause for alarm
...a garden fumigator may come in handy on evenings at the pub
...a toy merchant, a butcher, and a Freemason are among your best allies in the fight against the fey

Goblinproofing One's Chicken Coop is the only complete manual on how to identify, track, defend against, and destroy bothersome and scheming brownies, goblins, dwarfs, flower-fairies, and other nasty members of the fairy realm.

Written by Reginald Bakeley
Reginald Bakeley is best known for his longstanding editorship of Phooka, The Journal of the Overland Mallet Club. An avid sportsman and defender of rural life, Bakeley has devoted himself to public awareness and management of fairy populations throughout Britain.

With a foreword by Clint Marsh
Clint Marsh is a writer and publisher of practical esoterica. He has served as Reginald Bakeley's American editor since 1998, distributing Bakeley's conservation-minded pamphlets about the Fairy Kingdom through Wonderella Printed.

PRE-ORDER THE BOOK
Goblinproofing One's Chicken Coop will be released in October 2012. Copies pre-ordered through Wonderella will be autographed by Reginald Bakeley himself. Add a copy of Goblinproofing One's Chicken Coop to your online shopping cart by clicking the "Add to Cart" button at the bottom of this page.

Retailers interested in buying copies of the book may do so via its publisher, Conari Press.

Goblinproofing One's Chicken Coop is a 208-page paperback book measuring 5 x 7 inches. It features 40 black-and-white illustrations.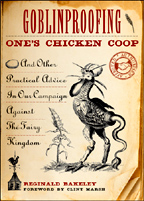 Goblinproofing One's Chicken Coop
And Other Practical Advice in our Camapaign Against the Fairy Kingdom.
$14.95