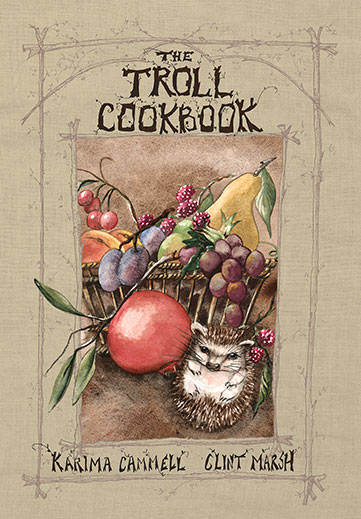 * 304 PAGES *
* 40 COLOR ILLUSTRATIONS*
* 180 RECIPES & TECHNIQUES *

Don't Feed the Trolls!
Let the Trolls Feed You!
Trolls are folkloric creatures found in many lands, and in these pages they offer us enchanting and personal ways to savor good food every day. Far from mere fantasy, the world of the trolls is really just a few steps from our own. It's a place where ancient nourishing practices live on, and where time-honored simplicity makes cooking understandable, delicious, and fun.
Created by the imaginative, award-winning duo of Karima Cammell and Clint Marsh, The Troll Cookbook sets you on the cyclical path of the culinary year. You'll learn creative ways to prepare and share meals using simple, seasonal foods and classic techniques. Food lore breaks down basic ingredients such as grains, beans, root vegetables, and eggs, and shows how to turn them into mouthwatering meals using more than 180 rapturous recipes and techniques. Whimsical paintings pepper the pages, showing trolls delighting in the food they've made.
Stirring together hearty helpings of myth with hands-on methods you can try in a bare-bones kitchen, The Troll Cookbook is here to put the heart and soul back into cooking. Following troll cooking traditions you'll learn how to:
start making your own yogurt
capture airborne yeast to create sourdough bread
make mock capers from nasturtium flowers
throw a stone-soup party and turn "nothing" into something delicious
preserve seasonal foods for enjoying later
and much, much more.

Created by Karima Cammell and Clint Marsh, with a foreword by Eli Brown, author of The Feasts of Tre-Mang and Cinnamon and Gunpowder.

ORDER THE BOOK
Add a copy of The Troll Cookbook to your online shopping cart by clicking the "Add to Cart" button at the bottom of this page.

Retailers interested in buying copies of the book may do so via its publisher, Dromedary Press.

The Troll Cookbook is a 304-page hardcover book measuring 7.25 x 10.25 inches. It features 40 full-color illustrations by Karima Cammell.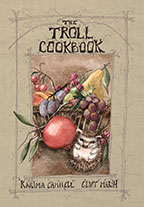 The Troll Cookbook
A Taste of Something Different: Simple Foods Any Troll Can Make
** This book is no longer available through Wonderella. **