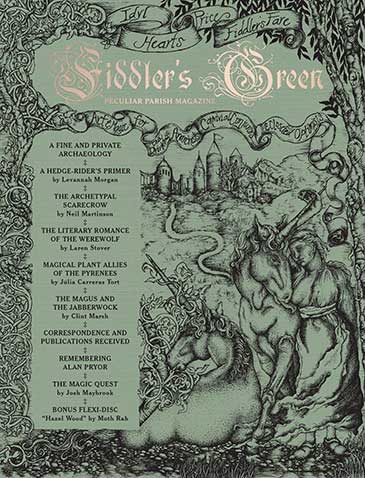 22 August 2023
A new batch of Wandering Wizards Welcome t-shirts and Green Man hoodies are available for pre-order through the Fiddler's Green web shop.
18 August 2023
Jeff Hoke has just completed some impressive renovations to his Museum of Lost Wonder website. Take a look at lostwonder.org.
11 July 2023
The Ring of Truth, a new Fiddler's Green Leaflet by Clint Marsh and Alice Cao, is available now through the Fiddler's Green web shop.
2 May 2023
The Pleasure, a new Peculiar Parish Edition by Erik Davis, is available to order through the Fiddler's Green web shop.
1 February 2023
The third iteration of our Wandering Wizards Welcome stickers, featuring full-color art by Alan Forbes, is now available from Fiddler's Green. Order yours through our web shop at fiddlersgreenzine.com.
12 January 2023
Throughout the year, the Peculiar Parish Bookshop will be offering pre-orders of some of our favorite third-party esoteric publications. The following list will be updated as these offers become available. Pre-orders may be placed through our website at peculiarparish.com.

Weird Walk (Issue 6) closes 1/24
Femme Occulte (Spring 2023) closes 3/21
Hwæt (Issues 1 and 2) closes 3/21
Airmid's Journal (Spring 2023) closes 4/18
The Mushroom (Issues 1–4) closes 4/18
Femme Occulte (Summer 2023) closes 5/23
Hellebore 9 (The Old Ways) closes 5/23
Cunning Folk (Reprints of 3 and 4) closes 6/7
Hwæt (Issue 3) closes 6/27
Sing-Along-A-Wicker-Man closes 6/27
Femme Occulte (Autumn 2023) closes 8/1
Weird Walk (Special Editions) closes 8/1
To receive pre-order announcements and other news from Wonderella Printed, Fiddler's Green, and the Peculiar Parish Bookshop, please join our email list.